Victor "Sonny" Gascon's Karazenpo Go Shinjutsu
Hawaiian and Shaolin Kempo Method
Information on the KGS system, it's history, family tree, curriculum, etc. and why it's taught at DMA.
Karazenpo Go Shinjustu, also commonly known as Hawaiian and Shaolin Kempo, is the system created by Grandmaster Victor "Sonny" Gascon. The focus of this system was to create an effective martial art for self-defense by teaching a core set of techniques that could be used against a variety of attacks. Characterized by it's combination techniques, forms, and use of movement theories inspired by animal techniques more commonly seen in Kung Fu systems. Karazenpo Go Shinjutsu would be the basis for systems such as Shaolin Kenpo/Kempo, Shaolin Kenpo/Kempo Karate, Villari's Kenpo Karate, Nick Cerio's Kenpo as well as provide the foundation for Soke Duncan's own Kemchido Combat Arts.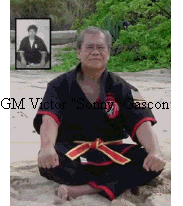 Grandmaster Gascon formed the system in 1958 after departing from the Kajukenbo system when he was visited by some students claiming that he could not use the Kajukenbo name unless he paid a required percentage to the home school. It is not confirmed whether these individuals were acting on behalf of Sijo Emperado or purely for their own purpose and at this point it is not important. More information is available in our dedicated Karazenpo Go Shinjutsu History area.Taking his knowledge of the Kajukenbo system and mixing it with the additional knowledge he had of Kung Fu and Judo he streamlined the original system into a series of combinations, kata and pinans.
If your system is Shaolin Kempo/Kenpo Karate, United Studios of Self Defense, Master's Self-Defense Centers, Villari's SKK, then more than likely your lineage takes you back to Grandmaster Gascon's Karazenpo Go Shinjutsu. Have you worked on 1-20 or 1-30 combinations, 1-5 Kata, Statue (sometimes known as Stature) of the Crane? Then your system has roots here in Karazenpo Go Shinjutsu.