Duncan's Martial Arts Children's Program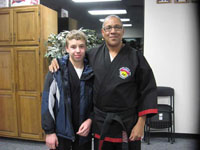 Here at Duncan's Martial Arts Academy our ultimate goal is to instill in children confidence, knowledge, and discipline. Karate is unlike any other sport that your child may be involved. Many sports do not require the level of discipline that karate does. A large part of what we teach involves rules of conduct and self-control. Because we want your child to have the best experience possible, all children are required to have at least three private lessons to introduce them to the martial arts. These introductory lessons allow us an opportunity to evaluate your child's abilities to determine whether he or she is ready to begin the study of martial arts. It also allows you the parent an opportunity to observe how our instructors work with your child. We think that this process is essential in providing your child with a positive learning experience. As you are aware, children develop mentally and physically at different rates. We have found that this process is helpful in planning the best program for your child. All of our instructors are certified and receive ongoing training by their Master instructor. We are very excited to offer our program to you.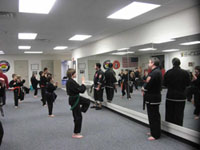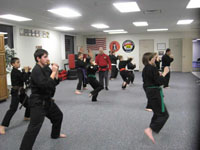 The children's program is designed to teach the principles of martial arts training in a structured safe environment which allows the children an opportunity to work their bodies and minds in a positive and fun manner. Typically, our karate classes are practiced in a group setting so students learn to work together and support each other. The classes usually begin and end with the traditional bow and salutation, which teaches the student respect for self, their fellow students, instructors, and the martial arts. It has been our experience that the martial arts training helps develop confidence, leadership, and good physical health.
Our children's classes are held on Tuesdays and Thursdays from 4-6 PM. New students must call and arrange for an appointment to set up their private introductory lessons to begin their training.
We, at Duncan's Martial Arts Academy, wish to express our sincere thanks to those students already part of our program and our instructors whose knowledge, skills, and dedication have made our program one of the best in the country.
- Master Duncan